Technology is rapidly evolving, increasingly transforming industries. It is shaping every aspect of the business, with digital transformation initiatives escalating as a corporate priority. Resultantly, CIO's need to constantly acclimate to the changing landscape, adapting their personal and professional skills to meet the demands from the new business environment. The pace at which digital transformation is impacting businesses has positioned many of them in a more strategic role – contributing to business strategy while driving leadership and innovation.
Such expansion of responsibilities has been embraced by some CIOs, creating vast opportunities to solve enterprise-level problems, create business value and deliver competitive advantages. However, this evolving role also brings with it a myriad of challenges. CIOs must therefore evolve, seize opportunities and overcome challenges, to enable their organizations to succeed.
Introduction
In this new era of digital disruption, CIO's need to start thinking radically and out-of-the-box to fundamentally support business transformation. This requires a shift from the traditional mechanism, where technology was the main precursor and driver of change. Today's technology has opened opportunities to enable change. However, the way in which companies embrace change is critical to success.
Digital transformation is changing all aspects of business, from supply chain management to the relationship between customers and the firm. It comes as little surprise that the CIO's role has evolved, now tasked with a new portfolio of capabilities in addition to previous responsibilities. In today's competitive environment it is important for CIOs to transform, being not only experts in IT but working closely with the business teams to drive strategy and innovation. Those who are unable to adapt to the new range of duties required by the firm may find themselves irrelevant in the new dynamic environment.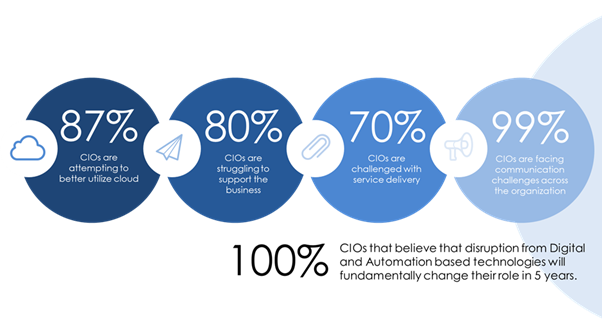 It's a lot easier for CIO's who work at companies that are disruptive (Amazon, Uber, etc.) because they embrace customer experiences and the technologies that support that strategy since they recognize that customers are demanding new experiences and willing to pay more for it. For the companies that don't fall into this category, that is, companies that were established before the digital revolution - there are definite challenges and opportunities.
The shift for CIO's is to work with their business counterparts and leadership to reach a consensus on the go-forward strategy and approach. Unlike the standard IT bi-modal approach, they need business leadership to be actively be engaged and take ownership of the initiatives.
Unless there is a burning platform that is supported by the C-Suite, driving that change is a challenge. We have seen the likes of Wal-Mart recognize they need to adjust their business model based on the disruption by Amazon. This adjustment to reach out to the customer by enabling the accessibility of stores with eCommerce and supply chain adjustments to provide new and exciting ways for customers to shop. Is there more opportunity to change? Absolutely. This is a journey. This is a mindset change for CIO's; but change is essential and risk-taking should be the new normal in this era of digital disruption to enable the companies to remain competitive.
The Evolution of the CIO
CIOs need to think differently. The world around us is changing. The culture is changing. The customer expectations are changing. They have to engage with the business in a different way. They must shift from running the IT organization to playing a more business centric role and partnering with the executive leadership to focus on delivering to the firm's goals and objectives.
In the past as in present, we can see that CIO's have been at the helm, leading firms to make the best technological decisions with the budget that they have been allocated. The responsibility of identifying the best-fit for a company's IT infrastructure has never been a small task, as it relates to the efficacy of the business and in some cases its competitive advantage. In modern times, the role has evolved to become more important, as companies navigate managing their data in a landscape filled with choice. The key difference between past and contemporary CIOs can be summarized as follows. CIO's of the present day have an increasingly prominent role within the company and must recognize that their job is no longer to solely provide IT solutions for the business, but to also lead teams to achieve the firm's vision. CIOs should be thought of now as business leaders, and agents of change. These individuals are not only required to be experts in their field but are mandated to inspire their employees through transformational leadership.
The major shift for the CIO in recent years is resultant of digital disruption. The movement has single handedly transformed jobs, processes and markets across the world, forcing the re-evaluation of the CIO position. To cope with rapid advancement, the effective CIO has had to immediately refocus their means of operation to suit new corporate priorities.
Currently, we are privy to view revamps in entire supply chain systems, inventory management and customer relationship management systems among leading firms. However, large corporations are not the only ones that see the benefit of the switch, with subject matter experts making their own adjustments where possible to keep abreast with the leaders of industry. We can observe that CIO's must now become familiar with using big data and analytics to predict future trends, in addition to continuously looking toward the future for potential applications of other technologies such as machine learning and artificial intelligence. The job scope has broadened, highlighting that the effective leader is one who adapts their personal and professional skills to meeting the demands of a competitive environment. The need for this new thought leadership is integral to mounting successful campaigns. The new role of the CIO places them in the prime position to be the champion for innovative and creative initiatives.
The successful CIO is one who can encourage others to embrace, engage and implement new processes and technologies in dynamic environments.
It should not be understated that the new CIO remains responsible for ensuring that existing IT departments deliver on prior commitments. While seemingly obvious, the effective CIO will be expected to take on the portfolio of traditional Chief Digital Officers, who prior to this evolution sought to convert "analog" firms into digital ones. With the CIO's new portfolio encompassing this, firms moving forward must be certain that their candidate is capable of handling a broader scope of work, whilst motivating and managing strategic and transformation changes.
Open the Avasant whitepaper for a full discussion of current contemporary challenges and opportunities for CIOs as they enter this new role.

Related:
Related: Intelligent Automation Tools: Taking a Holistic Approach to Automation
Related: The Emergence of Digital Service Centers